---
A rocky coastline. Hairpin turns. Steep ridges. Nearly 10 turns per kilometre. Sheer drop-offs of up to 200 metres. It's all in a day's work for New Zealand drivers Carl "Pin" Te Huia and his brother Stephen, aka "Bomb."
Pin and Bomb drive Scania V8 R620 trucks for a shellfish export company called Sea Products. Their customary route follows the coastline of the Coromandel Peninsula on the North Island. Their father, Wally, used to drive the same twisting, turning route starting in the late 1960s, when he hauled goods all the way to Auckland. These days, the younger Te Huias' route stops in the township of Thames, 44 km from the barges and boats of Coromandel Harbour.
Gear Management
Pin started to work for Sea Products in 2012, initially driving a Scania R560 8x4. In 2017 he upgraded to a 700-horsepower (522-kilowatt) V8 R620 with eight wheels and a second steer axle. Bomb left a log trucking gig to drive Pin's old R560 for Sea Products, but has since moved up to a new Scania NTG R620. Because the mussels and oysters they haul are drenched in salt water, the two truck bodies and their trailers have stainless-steel tanks to catch the corrosive runoff.
The two brothers have developed their own driving styles to maintain momentum on the steep grades and tight turns of the coastal highway. For example, Pin starts off from the Harbour with his R620 in off-road mode, shifting gears manually through the hills until he reaches the coast. There he engages auto power mode until about 18 km from Thames, where the road calms down enough for him to switch to economy mode. His Scania truck's adaptive cruise control furnishes additional cost savings. In the 260,000 km Pin has driven his R620, his finesse has managed to eke out an average of 2.11 km per litre of fuel on the demanding route.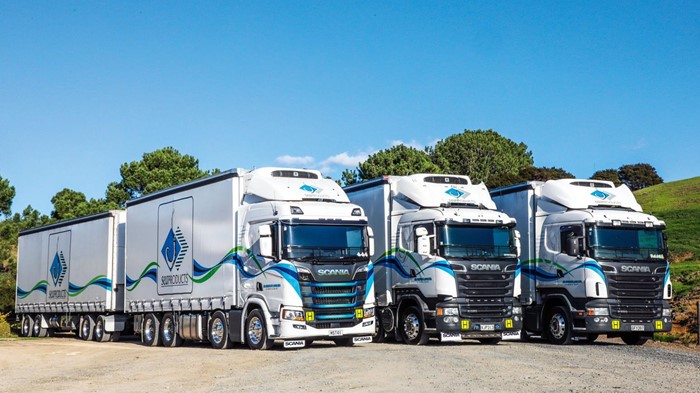 ---


The Scania R Series
Scania's aerodynamic, long-haul R Series comes in a variety of Euro 6 configurations in the UK and Ireland. Engines range from a 280-hp (209-kW) 9-litre to a 770-hp (574-kW) 16-litre, with variants for gas, hydrotreated vegetable oil (HVO), biodiesel, and ethanol in addition to diesel. The R Series' sleeper and day cabs come in a variety of interior and exterior heights, while its eight- and 12-speed transmissions have an array of available configurations with options such as Scania Opticruise and the Scania Retarder. Tractor chassis options range from 4x2 to 6x4, while rigid truck chassis come in 4x2 versions on up to a 10x4 variant with six-wheel steering.
Find The Right Scania Truck
Think of Truck Locator first when you're in the market for new and used Scania trucks for sale, including R620 and other R Series models.
Source: Scania