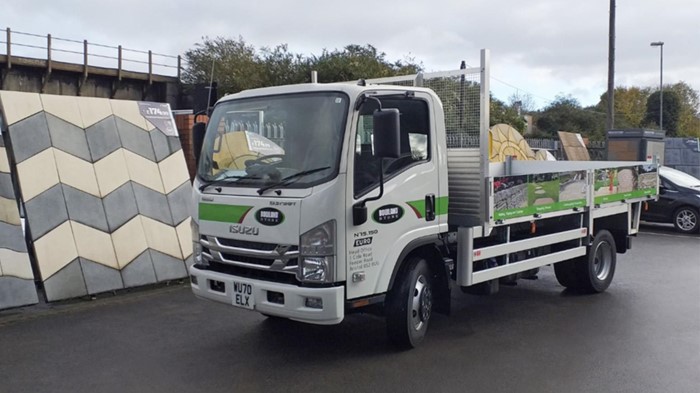 ---
Bowland Stone has a long history of running Isuzu trucks in its depots to deliver loose aggregate, ready-mix concrete, floor screed, and other heavy materials to customers in south-west and north-west. The firm's latest Isuzu N75.150 features a 4-tonne payload, thanks to an aluminium tipper body provided by AK Commercials. "Having operated Isuzus for over 12 years, we were fully aware that they have a distinct payload advantage over their competitors," says Bowland Stone Group Director Ian Elston. "However, with this latest 2020 model, we were completely bowled over by its unbelievable 4-t payload capacity."
Able To Work In Tight Streets
In addition to the heavy-duty aluminium tipper body specification on the new Isuzu N75.150, Bowland Stone appreciates the truck's ability to manoeuvre in urban environments. "As we operate the Isuzus primarily within the Bristol area, the compact footprint of the trucks, matched to the Easyshift automatic gearbox, has proved to be a really popular combination with our drivers, especially when operating within the tight streets of the Bristol conurbation," explains Elston.
Isuzu's N75.150
The Isuzu N75.150 is a 4x2 rigid truck with twin rear wheels. It has a gross vehicle weight of 7,500 kilograms and the standard configuration supports a maximum trailer weight of 3,500 kg. Wheelbases and overall lengths range from 3,365 to 4,475 millimetres and from 6,040 to 7,870 mm, respectively. The N75.150 is available as a chassis cab for easier bodybuilding and customisation; Isuzu also offers several factory-installed configurations, including dropside trucks and tippers. The truck comes with an Isuzu 4JJ1-E6-D engine as standard; it produces 110 kilowatts (150 horsepower) and 375 newton-metres of torque between 1,600 and 2,800 rpm.
Find Your Next Isuzu Truck
You will find a large selection of new and used Isuzu trucks for sale on Truck Locator, including a number of Isuzu N75s.
Source: Isuzu