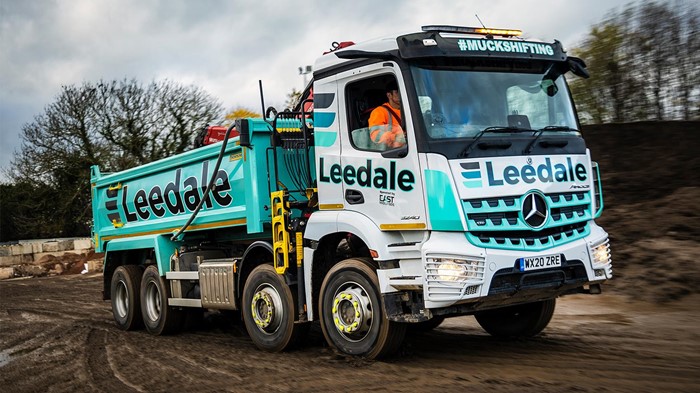 ---
Leedale is aggressively improving its fleet to win new business beyond its East Midlands heartland, an upgrade process that includes four Mercedes-Benz Arocs 8x4 tipper-grabs equipped with MirrorCam technology. Leedale was one of the first UK customers to commission a couple of the Arocs tipper-grab trucks in January, and the service specialist recently purchased another pair.
Combining Power & Safety
The Arocs 3240K variants are spec'd with ClassicSpace M-cabs and employ 10.7-litre straight-six engines which produce 290 kilowatts (394 horsepower) and 12-speed Mercedes PowerShift 3 automated manual transmissions. As part of Leedale's expansion programme, the firm aims to meet the Silver Fleet Operation Recognition Scheme (FORS) standards as soon as possible, having already met the Bronze FORS accreditation. And with safety equipment like the 360-degree camera and side-scanning system to protect vulnerable road users, as well as LED strobe lighting front and rear and a roof-mounted LED beacon bar, the Arocs 3240K trucks are helping Leedale reach its fleet goals.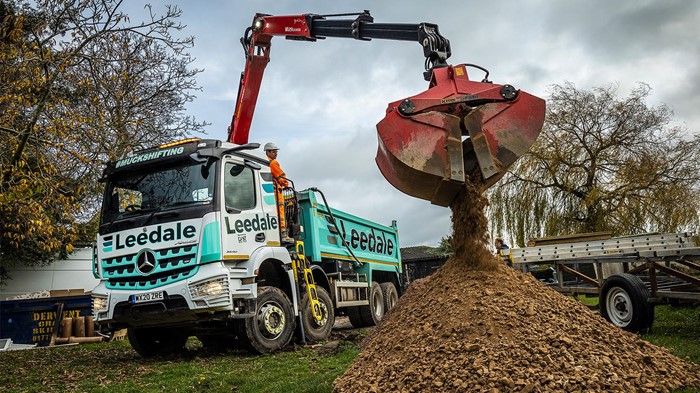 ---
"Not only have our Mercedes-Benz trucks proved to be more reliable and cost-effective to operate than other marques on the fleet, but they are also ahead of the rest when it comes to safety," says Leedale's Kim Smith. "MirrorCam, for example, has been a huge hit with the drivers who are using it. So much better is the level of visibility the system offers that not one of them would want to be without it now."
All About The Arocs
The Mercedes-Benz Arocs is available in two variants: the standard Arocs, which supports gross combination weights (GCWs) from 18 to 48 tonnes, and the Arocs SLT which supports a GCW of up to 250 tonnes. Both models share the same cab specifications, including the ClassicSpace S-cab, ClassicSpace and CompactSpace M-cabs, and ClassicSpace, StreamSpace, and BigSpace L-cabs. Sellers like Rygor Commercials, who provided the Arocs tipper-grab equipped models to Leedale, might also offer work-ready models that have been pre-built to operate on specific types of construction applications.
---
The six-cylinder in-line engine options range from 235 to 617 horsepower (175 to 460 kilowatts), consisting of four displacement classes (7.7, 10,7, 12.8, and 15.6 litres) and 18 output levels. The high-torque design provides anywhere from 1,000 to 3,000 newton-metres (737.6 to 2,212.7 pounds-foot) of torque, and the broad range reduces shift operations, which in turn saves wear on the clutch and transmission.
Find The Right Mercedes-Benz
You will find hundreds of new and used Mercedes-Benz trucks for sale on Truck Locator, including a large selection of Arocs models.
Source: Mercedes-Benz