---
Global Delivery Solutions, a transport company based in Wellingborough, recently purchased two new Volvo FH Unlimited Edition trucks with I-Save. The 44-tonne (48.5-U.S.-ton) 6x2 tractor units are both powered by 500-horsepower (373-kilowatt) D13TC Euro 6, Step D engines designed to be highly fuel-efficient while also offering up to 300 newton-metres (221 pounds-foot) of additional torque over the standard engine offering. Both of Global Delivery Solutions' FH Unlimited are covered by Volvo Blue Contracts and the company estimates they'll travel around 140,000 kilometres (87,000 miles) each year alongside the company's 25 other vehicles.
There is also a 460-HP (343-kW) version of the engine; both engines are available as part of the I-Save package that includes several other fuel-saving features, such as I-See predictive cruise control that uses topographical data to detect gradients and make more efficient gear changes.
Special Inside & Out
The FH Unlimited Editions also have Globetrotter XL cabs in white with blue decals, Alcoa Dura-Bright alloy wheels, Conger Black chassis paint, chrome accents, and other exterior upgrades. The interior features a black leather steering wheel and black leather upholstery, black door panels, an adjustable driver's seat, a 7-inch touchscreen display, refrigerator, microwave, and space for a television. The sleep compartment includes Volvo's single-bunk living package.
Volvo reports that it donates £1,000 to NHS Charities for each FH Unlimited Edition truck it sells in the United Kingdom. So far, the manufacturer has donated a total of £70,000 to the collective.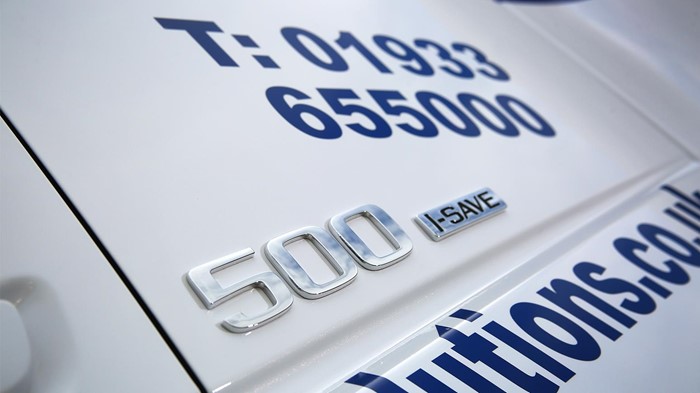 ---


"A Real Step Up"
"We've been running Volvo trucks ever since we've been going and we've always been very happy with the product," says Satpal Bains, co-owner of Global Delivery Solutions. "The FH with I-Save is talked about as one of the best trucks on the market when it comes to fuel economy, and we were certainly impressed with the results we saw from the demonstrator. The drivers absolutely love them. They've both driven Volvos in the past but they say these trucks are a real step up. We've gone for these high-spec, Globetrotter XL cabs so they are very happy to say the least, and the ice-white colour looks fantastic."
Find The Right Volvo Truck
You will find hundreds of new and used Volvo trucks for sale on Truck Locator, including a large selection of FHs, FLs, FMs, and FMXs.
Source: Volvo