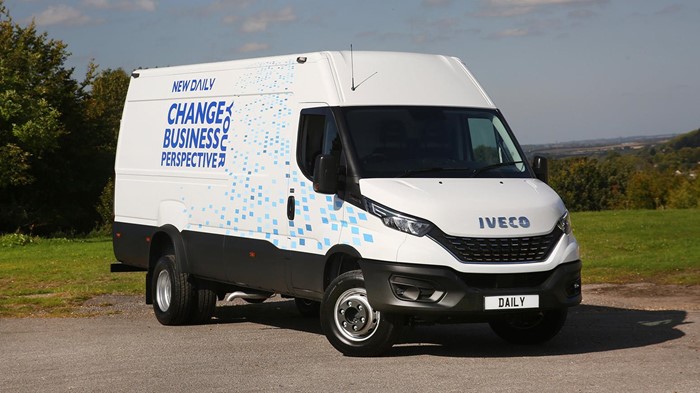 ---
The IVECO Daily recently won 2021 Light Truck of the Year at the Fleet World Great British Fleet Awards, the second win in three years for the range. "This is a fantastic accolade to further cement Daily's reputation as a robust and efficient vehicle with unrivalled capability," says Mike Cutts, light business-line director for IVECO UK. "For the second time, too. Business trimline and the Driveaway scheme have been well received and expanding the latter with new mission bodies makes it simple for customers to swiftly and thoroughly exploit the boundless range."
More IVECO Daily Details
IVECO Daily vehicles are available with gross combination weights of between 3.5 and 7.2 tonnes (3.9 and 7.9 U.S. tons) in several configurations, including panel van, two-row crew van, chassis cab, crew cab, rear-wheel-drive chassis cowl, and 4x4. The panel van, for instance, offers a maximum cargo volume of between 7.3 and 19.6 cubic metres (258 and 692 cubic feet). The base Daily chassis supports payloads of up to 4.9 t (5.4 U.S. t).
Engine options include a 2.3-litre F1A or 3.0-L F1C diesel producing between 136 and 210 horsepower (101 and 157 kilowatts), as well as a compressed natural gas (CNG)-powered engine that offers 136 HP. There's also the option for either a six-speed manual or eight-speed HI-MATIC automatic transmission.
The 2019 update, which saw the Daily win its first Light Truck of the Year award, introduced a new grille design and a three-piece bumper along with the option to add LED headlamps. IVECO also introduced the 7-inch HI-Connect infotainment system with TomTom navigation, Apple CarPlay and Android Auto support, Bluetooth compatibility, and a DAB radio. Other new features included a smaller steering wheel and an electromechanical parking break, as an option.
Find Your Next IVECO Vehicle
You will find hundreds of new and used IVECO trucks and vans for sale on Truck Locator, including a large selection of Daily, Eurocargo, Stralis, and Trakker models.
Source: IVECO