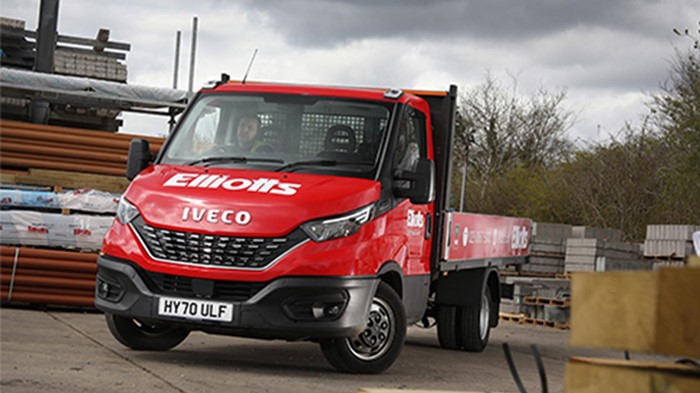 ---
Elliotts began replacing an ageing fleet of 18-tonne trucks back in 2006 with more versatile 26-tonne (28.6-U.S.-ton) IVEVO Stralis trucks. The process has continued over the years, and in February, the builders merchants group took possession of six 3.5-t (3.85-U.S.-t) 35C14A8 IVECO Daily trucks fitted with a VFS dropside body, followed by three more featuring IVECO's eight-speed HI-MATIC self-shifting gearbox. With the switch to IVECO for its smaller customer delivery trucks, Elliotts' fleet now consists of only IVECO brand trucks and vans.
Attuned To Drivers' Needs
"We're keen to support the drivers with the right tools for their job, and so far with Daily the drivers absolutely love them," says Elliotts' Operations Support Manager, Gary Tippen. "If we look after the driver and they're comfortable in a lovely cab with a nice gearbox, air conditioning, and built-in navigation, they're going to look after the vehicle far better, and that's true across the range."
---
Elliotts equipped the new trucks with the latest in vehicle technology. Features include the 7-inch touchscreen Hi-Connect infotainment system with Apple CarPlay and Android Auto functionality, as well as the TomTom Live-based navigation system that can account for overall vehicle size and weight to avoid unsuitable route choices and improve delivery times.
More On The IVECO Daily
The IVECO Daily recently won 2021 Light Truck of the Year at the Fleet World Great British Fleet Awards, the second win in three years for the range. IVECO Daily vehicles are available with gross combination weights of between 3.5 and 7.2 t (3.85 and 7.9 U.S. t) in several configurations, including panel van, two-row crew van, chassis cab, crew cab, rear-wheel-drive chassis cowl, and 4x4. The panel van, for instance, offers a maximum cargo volume of between 7.3 and 19.6 cubic metres (258 and 692 cubic feet). The base Daily chassis supports payloads of up to 4.9 t (5.4 U.S. t).
---


Find Your Next IVECO Vehicle
You will find hundreds of new and used IVECO trucks and vans for sale on Truck Locator, including a large selection of Daily, Eurocargo, Stralis, and Trakker models.
Source: IVECO