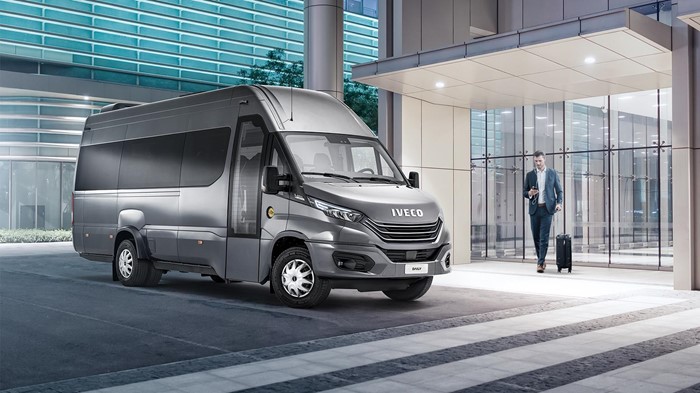 ---
IVECO Bus has unveiled its New Daily minibus, bringing advanced connectivity, sustainability, and comfort to passenger transport applications such as excursions, shuttle service, and urban, interurban, and school missions. IVECO designed the new minibus for durability and low total cost of ownership (TCO).
The New Daily's available engines include alternative-fuel as well as diesel options, complying with not only today's emissions standards but those of tomorrow as well. IVECO's innovative Air-Pro intelligent pneumatic suspension gives the New Daily safe handling and a smooth ride. Integrated Amazon Alexa technology responds to driver voice commands.
"With the New Daily we move to the next level and go smart," says IVECO Brand President Thomas Hilse. "It offers a level of innovation with no equivalent on the market. It brings on board best-in-class comfort and safety, extraordinary flexibility and mission focus, together with a substantial TCO reduction and a constantly expanding portfolio of IVECO ON services."
Minibus Variants
IVECO offers the New Daily minibus in a variety of models, lengths, and layouts. A new driver's seat includes memory foam and other enhancements for all-day comfort.
The Daily Start is a basic model for short-range shuttle or taxi service. It can carry up to 22 passengers, as can the Daily Line inter-urban minibus. The Line comes with manual, electric, or sliding doors.
The Daily Tourys is a stylish, comfortable minibus for up to 19 tourists and 2.5 cubic metres (88.3 cubic feet) of baggage space. Its connectivity and convenience features include an audiovisual multimedia system, a USB port for each pair of seats, and LED lighting.
IVECO also offers the Daily Pop, a 41-passenger school minibus for the Italian market, and plans to introduce a low-entry urban model called the Daily Access. New Daily minibus options include wheelchair accessibility features, a rear platform, quick-release rear seats, centralized air conditioning, ticket validation machine space, and more.
Connectivity
The New Daily's driver can interact with IVECO ON connected telematics services via Alexa voice commands. IVECO ON provides route planning, fleet monitoring, repair and maintenance services, and more.
IVECO Driver Pal is an Alexa-powered digital assistant with two unique skills. MYIVECO lets the driver control the navigation system, run vehicle diagnostics, ask for assistance, and request tips for safer and more fuel-efficient driving. The MYCOMMUNITY skill uses automatic language translation to allow bus drivers to communicate with each other in order to exchange traffic or construction information, etc.
The New Daily's connectivity box comes with the SMART PACK package, which offers feedback on the operator's driving style and information on the vehicle's status. Its tools include Smart Report, Safe Driving Report, the IVECO On Customer Portal, and Vehicle Monitoring & Remote Assistance. The PREMIUM PACK option adds Fleet Management and the IVECO Web API.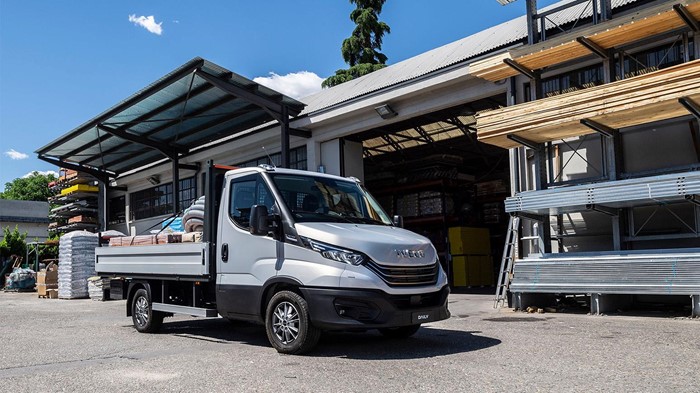 ---


A Smart Suspension
IVECO's Air-Pro is an industry-first pneumatic suspension with intelligent electronic controls. Its Continuous Damping Control unit calculates each shock absorber's pressure needs every 10 milliseconds, lowering vibration by up to 25% and reducing the vehicle's roll angle by 30% during turns. Air-Pro can quickly lower the chassis for loading or unloading of passengers, and the driver can store frequently used height settings in the system's memory. The operator can set Air-Pro to Soft, Load, or Auto settings using a rotary switch on the dashboard.
The New Daily minibus is available with a quiet 3.0-litre, 136-horsepower (101-kilowatt) natural gas engine that is compatible with biomethane. The bus can also be outfitted with a 2.3-L diesel engine with two power levels of 180 and 210 HP (134 and 157 kW). It delivers up to 15% more torque and up to 6% better fuel economy than prior motors. The diesel engine uses a double selective catalytic reduction (SCR) aftertreatment system—no larger than the previous single-SCR unit—to not only comply with Euro VI-E emissions standards but also to achieve Conformity Factor 1 for future regulations. This means the New Daily minibus meets real-world emissions limits both currently and for the life of the vehicle.
Gearbox options include a new six-speed manual transmission that offers "best-in-class shiftability and precision engagement," in IVECO's words. It requires no oil change for 350,000 kilometers (217,500 miles) and can be used with either of the New Daily's engine options. An eight-speed Hi-Matic automatic transmission with a Telma retarder is also available.
Find The Right IVECO
Beyond the minibus configuration, the New Daily is also available as a light commercial vehicle including a 7-tonne (7.7-U.S.-ton) version for heavy payloads. Chassis cab editions of the New Daily have engine options ranging from 116 to 207 HP (87 to 154 kW).
Truck Locator offers a number of new and used IVECO vehicles for sale, including Daily models.
Source: IVECO