---
Glass Systems of Llansamlet, Swansea, has purchased a pair of fifth-generation Mercedes-Benz Actros tractor units with which to deliver sealed-glass units to construction sites and other customer locations throughout England's eastern side. The company purchased the 428-horsepower (315-kilowatt) Actros 2543 trucks with StreamSpace cabs—the first with its new corporate livery—from South Wales dealer Euro Commercials with competitive funding support from Mercedes-Benz.
Hauling Glass In A Mercedes
Glass Systems has been a Mercedes-Benz customer for more than three decades. All of its 50-truck fleet of purchased and contract-hired rigids bears the familiar three-pointed star. Most are 18-tonne (19.8-U.S.-ton) vehicles, including the 16 new curtainsiders either recently delivered by Euro Commercials or still in the build process, with some 7.5- and 26-t (8.3- and 28.7-U.S.-t) rigids working hard as well.
The glass company's two new Actros tractors are based at its production facility in Peterborough. The trucks are powered by 10.7-litre, inline six-cylinder diesel engines and are covered by Mercedes-Benz Complete Service contracts. They also boast Mercedes technological advancements such as the innovative MirrorCam system, the Multimedia Cockpit, Active Brake Assist 5, and Predictive Powertrain Control.
MirrorCam
MirrorCam replaces the Actros trucks' side mirrors with more aerodynamic, roof-mounted cameras. Displays mounted on the interior of the truck's A-pillars provide the essential views the driver needs while eliminating forward-facing blind spots.
The cameras automatically adjust when the truck is turning or reversing, keeping the rear of the trailer in view. The sleek cameras also resist mist and dust better than physical mirrors while improving fuel economy by as much as 1.5%.
"We have some narrow roads in this part of South Wales, while the new tractors will be on and off busy sites at which access may be tight," says Glass Systems National Transport Manager Rob James. "Any fleet manager will tell you that in such circumstances, it's inevitable that a truck with mirrors will suffer a certain amount of accident damage, whether from overhanging branches or other vehicles. MirrorCam is already helping to reduce damage costs on the 18-tonners because being so much smaller and mounted high up on the roof, the cameras are a lot less vulnerable to 'knock-offs.'"
James says that even his firm's older drivers learned to appreciate the new MirrorCam system. "Most importantly, I'm convinced that running a modern, technologically advanced fleet gives us a big advantage when we're recruiting younger drivers. They really like all the mod cons, and no one does that better than Mercedes-Benz."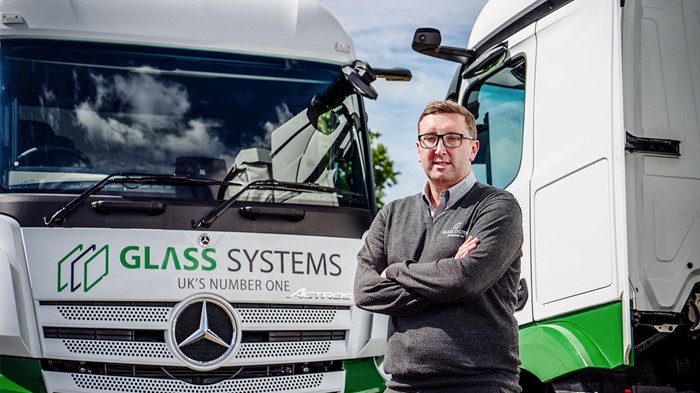 ---


Other Features
Glass Systems' new Actros also feature Mercedes' upgraded Multimedia Cockpit option with a 12-inch instrument panel. A dual-screen digital dashboard replaces traditional analog switchgear with an intuitive, at-a-glance display of critical information.
Actros trucks' standard features include the Active Brake Assist 5 emergency braking system. This system uses radar and video imaging to identify pedestrians and objects in harm's way and automatically brakes the vehicle to avoid accidents.
The Actros also comes with Mercedes-Benz's updated Predictive Powertrain Control as standard. This advanced system shifts the transmission's gears according to 3D road maps and satellite positioning to improve the truck's fuel economy by as much as 5%. PPC also fully uses the Eco Roll function of the PowerShift 3 transmission to maximise fuel efficiency and curb emissions.
The Actros
Mercedes' Actros tractor units come in 18- to 33-t (19.8- to 36.4-U.S.-t) configurations. They're available in 4x2, 6x2, and 6x4 variants with wheelbases of 2,650 to 4,000 millimetres (104 to 157.5 inches). The cab of the Actros comes in two widths and five roof shapes: CompactSpace, ClassicSpace, StreamSpace, BigSpace, and GigaSpace, in order from lowest to highest ceiling. The Actros' six-cylinder, Euro Stage VI engines come in 7.7-, 10.7-, 12.8-, and 15.6-litre displacements spanning 238- to 625-HP (175- to 460-kW) power levels.
Besides Mercedes-Benz Uptime fleet management services, the Actros also supports safety technologies such as the optional Sideguard Assist feature, which alerts the driver to objects and people alongside the truck. Others include Traffic Sign Assist road sign recognition, Active Drive Assist, Proximity Control Assist to maintain distance from vehicles ahead, Lane Keeping Assist, Attention Assist, "follow-me-home" lighting, and Cornering Assist lights.
Find The Right Mercedes-Benz
Truck Locator simplifies your search for new and used Actros and other Mercedes-Benz trucks for sale.
Source: Mercedes-Benz