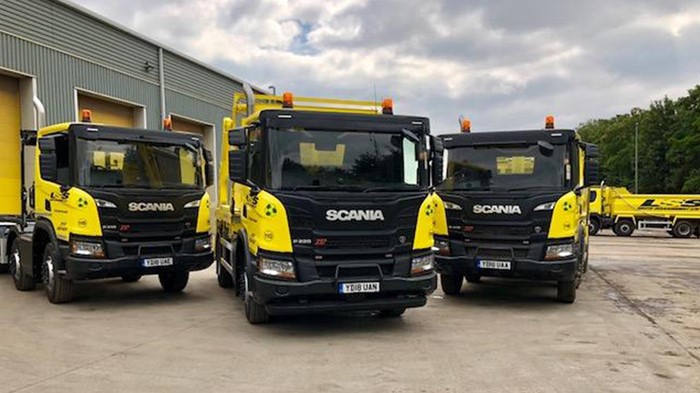 ---
LSS Waste Management Limited, a waste recycling operation based in Leeds in Yorkshire, is increasing its fleet to more than 75 vehicles, 95% of which are Scania models, by bringing in 14 new Scania XT trucks. This order consists of ten skip loaders, two hookloaders, and two tippers. LSS already has plans to add eight more Scania trucks to its fleet in 2019.

"With a fleet of over 75 trucks, the majority of which are Scania, the feedback from the drivers of the new XT models is that they are outstanding vehicles," says Nigel Woolford, managing director at LSS Waste Management Limited. "Our drivers love them in every way. In particular, they like the great comfort, great visibility, great power, and ease of driving. From a business perspective, fuel economy is also much better. We are currently running fuel tests on our skip loaders, hookloaders, and tippers and are all looking much-improved compared with their predecessors."

Longevity & Support
LSS has stayed with Scania largely thanks to its service plans and network of dealers. The company admits that it runs its vehicles hard and has a number of P-Series trucks with model years ranging from 2005 to 2018. Models from 2014 up to the brand new 2018 XTs have full repair and maintenance plans supported by Scania Normanton. "I want to be able to call the depot and know they care about the uptime our vehicles, which I believe they do as they do everything in their power to fit us in," says Sally Johnson, workshop and fleet manager at LSS Waste Management Limited. "Relationships stand for a lot and to date, the backup has always been there."

More On The Scania XT Lineup
The XT specification is available on Scania P-Series, G-Series, R-Series, and S-Series trucks. There are a number of engine options, including a 16-litre Euro 6 configuration that produces up to 730 horsepower and 3,500 newton-metres of torque, and XT models are available in day cab and sleeper cab configurations.

TruckLocator is home to hundreds of used Scania trucks for sale, including Scania P-Series models.