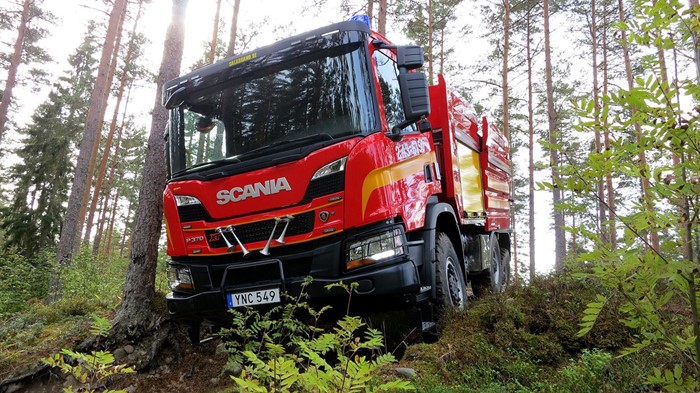 ---
Eksjö Rescue Services, based in the south of Sweden, recently added a new fire tanker truck to its fleet, a Scania XT P370. The truck is a 6x6 two-seater with special-order Sala Brand bodywork and a 6,000-litre water tank. It was brought in to replace a 1976 SaaB-Scania SBAT (Special Bulldog Allwheeldrive Tandem) 111S 6x6 tactical truck, because while it has gotten the job done, "it was dated after 42 years and spares were increasingly difficult to find," says Micael Carlsson, head of Eksjö Rescue Services.

The Scania XT P370 is well-suited to working in Swedish forests thanks to its durability and manoeuvrability. "What distinguishes this truck is the flexible attachment between the frame and body in order to cope with the uneven movement in terrain," says Johan Sand, a salesperson at the Scania dealership in Atteviks. "With a rigid attachment, the tanks might crack. It has also been equipped with heavy-duty threaded off-road terrain tyres."

Ready For Work
Although Eksjö Rescue Services has yet to use the vehicle to fight a fire, Carlsson says "our staff has trained with the new truck" and "it performs almost as well as the SBAT with another level of comfort and safety." When the time comes, the organization plans to take advantage of the 6,000-litre tank and all-terrain capabilities to fight fires in Eksjö and surrounding areas, but Carlsson also understands that they have to be a bit more protective of the new P370.

"We stand ready to assist others with firefighting resources but I don't think that we'll be taking the truck on the road; with these tyres, it a bit unsteady on tarmac," he says. "Besides, we need to take more care when handling this truck. A few more scratches here and there on the army truck really was of no concern."

---
Find Your Own Scania Trucks
There are hundreds of used Scania trucks for sale on this site, including several nearly new Scania P370 models and many others in the Scania P series. You'll also find multiple makes and models of used fire trucks.