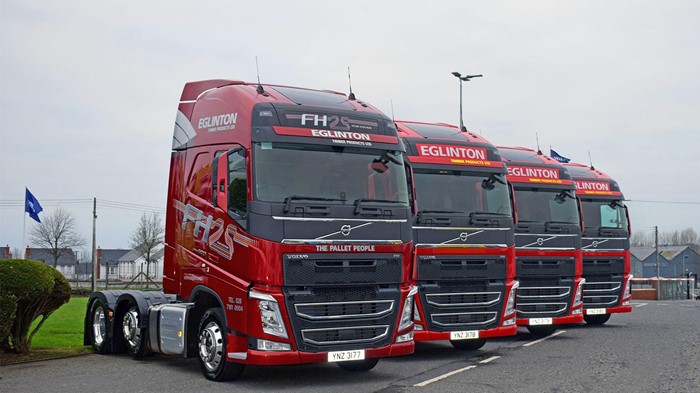 ---
Eglinton Timber Products, based in Londonderry, Northern Ireland, recently added four new Volvo FH500 trucks to its fleet, one of which is a 25-Year Special Edition model. Dennison Commercials Ltd, a Volvo dealer also based in Northern Ireland, supplied the vehicles. "We have been running Volvos for 30 years now and are very pleased with how the FHs perform, returning good fuel consumption figures," says Gavin Blair, director of Eglinton. "We have a long association with Dennison, as we have been dealing with them from shortly after we were established in 1986."
Standing Out
All of Eglinton's Volvo FH trucks feature 500-horsepower engines, Volvo I-Shift automated transmissions, and Globetrotter XL cabs with leather seats, double bunk beds, and refrigerators. Each vehicle also has Alcoa Dura-Bright alloy wheels and steel bumpers. The three standard models come in Volvo Agra Red along with the company's distinct livery, while the special edition model sports the Crimson Pearl Red paint colour.
The Volvo FH 25-Year Special Edition celebrates the history of the model, which first launched in 1993. In addition to its unique exterior, the truck also has a luxury interior complete with leather elements and orange accents that give it a retro feel. Despite its classic look, the special edition FH has all of the features you would expect from a modern Volvo truck, including Volvo Dynamic Steering and driver support and safety systems, including adaptive cruise control, collision warning, and an automatic emergency brake.
---
Go Volvo
If you are in the market for a Volvo FH or other similar model, you will find a large selection of used Volvo trucks for sale on TruckLocator.