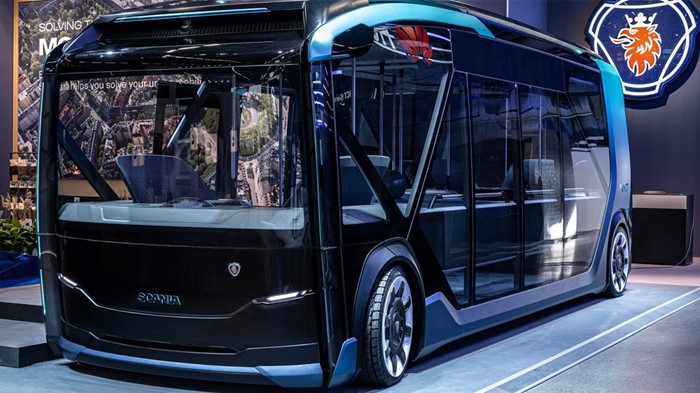 ---
Scania recently unveiled its NXT concept, a modular, battery-electric, self-driving vehicle that can serve as a bus, delivery vehicle, or refuse truck. The bus module was recently on display at the UITP Global Public Transport Summit, which took place from 10 to 12 June in Stockholm, Sweden. "NXT is a vision of the future for transport in cities," says Henrik Henriksson, president and CEO of Scania. "Several of these technologies have yet to fully mature, but for us it's been important to actually build a concept vehicle to visibly and technically demonstrate ideas of what is within reach. NXT is designed for 2030 and beyond while incorporating several cutting-edge features that are already available."
NXT Bus Module
Scania set out to develop a vehicle that could transport both people and goods, and the bus module shows the potential for self-driving technologies and automation in the public transportation arena. The NXT bus module is eight metres long and Scania built it "as one composite unit," giving it a "low vehicle weight of less than eight tonnes," the company says. It has space for cylindrical cell batteries beneath the floor, which frees up space in other area and improves the weight distribution of the vehicle. Scania also points out that with today's batteries, the NXT bus module would have an estimated range of up to 245 kilometres.
---

NXT Is A Start, But More Infrastructure Is Needed
Scania admits that it can't achieve more efficient, automated public transportation, delivery, and waste collection on its own. While vehicles like the NXT show the potential for reducing emissions and reducing noise levels in urban areas, Scania stresses the need for "significant development of infrastructure" and proper planning over the coming years to support "the 24/7 flow of people and goods." Even so, the NXT is a major step forward for Scania in the electric self-driving vehicle space and it will lead to more developments in the coming years.
"This is something new, something very different. Yet flexible design and modularised units lie very much at the core of Scania," says Robert Sjödin, NXT project manager at Scania. "Continuous improvement in small steps has been the hallmark of Scania. We are now taking a giant leap into the future. This vehicle will provide invaluable tangible data in our continued development of electrified autonomous vehicles."
You will find a large selection of new and used Scania trucks for sale on TruckLocator.