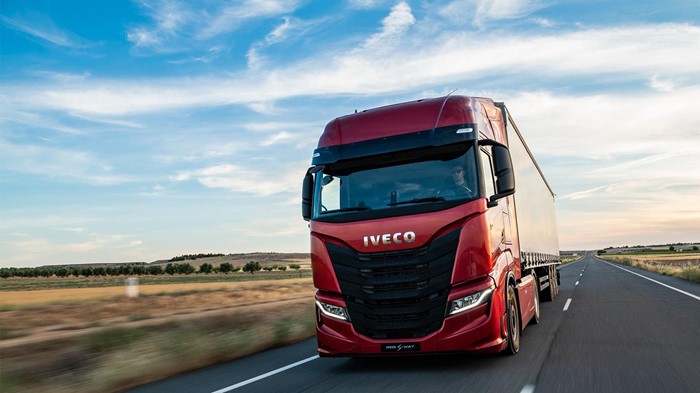 ---
At SOLUTRANS 2019, which took place in Lyon, France, from 19 to 23 November, IVECO highlighted new driver-centric innovations in its Daily, WAY, and MAGIRUS ranges, enhanced connectivity across its entire lineup, and the company's efforts to continue reducing emissions via sustainability initiatives. On the driver-centric front, both the Daily and S-WAY share the same infotainment system complete with a 7-inch monitor, Apple Car Play and Android Auto support, navigation, Bluetooth connectivity, and a DAB radio.
The Daily now comes standard with several driver assistance systems, including an advanced emergency braking system, City Brake PRO, Queue Assist, and ProActive Lane Keeping Assist. The new IVECO WAY series features a redesigned cab with an ergonomic layout that puts controls within comfortable reach along with a spacious living compartment. Operators can also use the MY IVECO EASY WAY mobile application to manage several systems remotely, including lighting, climate control, door and window locks, and more. IVECO also had its fitness-oriented FIT CAB and its MAGIRUS series on display, two concept vehicles that will be continually refined based on customer feedback.
Daily & S-Way Connectivity Features
IVECO had added a new Connectivity Box to its Daily and WAY ranges. This device is "linked to the Microsoft Azure cloud" platform, which the company says "offers the operators an impressive array of high added value services." The Connectivity Box also links the vehicle to IVECO's Control Room for continuous monitoring, which helps companies be more proactive about maintenance and repairs. Fleet managers can also take advantage of that gathered data to improve fuel efficiency with "fuel economy advice services," reduce downtime with predictive scheduling, and improve driver performance via a "driver style evaluation tool," IVECO explains.
Alternative Fuels Lead To Reduced Emissions
IVECO has been a longtime supporter of alternative fuels and by focusing on the development of CNG (compressed natural gas) and LNG (liquefied natural gas) vehicles with its Natural Power lineup, the company has achieved a major milestone: "7 out of every 10 non-diesel trucks on European roads are made by IVECO." So far, the company has produced 35,000 natural gas vehicles and 50,000 natural gas engines. The company also announced strategic partnerships with Nikola to develop battery-powered HGVs (heavy goods vehicles) for 2022 and fuel cell-powered HGVs by 2023.
Because customer acceptance of CNG and LNG vehicles has been on the rise, IVECO has been able to double down on its efforts, including introducing a new Stralis NP460 model and helping establish a stronger refuelling infrastructure with "more than 630 refuelling points now available to drivers across Europe." IVECO also says that refuelling trucks like the IVECO S-WAY CNG in such countries as France, Germany, and Switzerland will "make CO2 reductions in 2020 close to the objective set by the European Union for 2030." And, in Denmark, Iceland, Sweden, and the Netherlands, it "will be close to carbon neutral," which is "the European Union's objective for 2050."
You will find a large selection of used IVECO trucks for sale every day on TruckLocator, including Daily, Eurocargo, and Stralis models.