---
Nikola Motor Company and CNH Industrial brands IVECO and FPT Industrial recently held a launch event in Turin, Italy, where they laid out their goal for developing zero-emissions heavy-duty trucks for Europe and North America. The companies hope to speed up the adoption process for fuel cell and battery-electric trucks, and the Nikola TRE, which was also highlighted at the event, is a step in that direction. The theme of the event was "3 2 1 0"; the "3" signified the new Nikola TRE, the "2" represented Nikola and CNH Industrial, and "1" stood for the companies' "one" goal, which is to put more "0"-emissions Class 8 trucks onto the market. A recorded version of the live stream event is available for viewing on IVECO's YouTube channel.
A Wealth Of Experience
The partnership between these companies seeks to leverage Nikola's extensive experience in developing fuel cells and batteries, as well as its leasing program, and IVECO's and FPT Industrial's experience in manufacturing in order to "industrialize the fuel-cell and battery-electric trucks," CNH Industrial explains. The result of the collaboration, the battery-electric Nikola TRE, is based on the IVECO S-Way, which was first announced in June 2018 in Madrid, Spain. The TRE made its debut back in April 2019 at an event in Scottsdale, Arizona.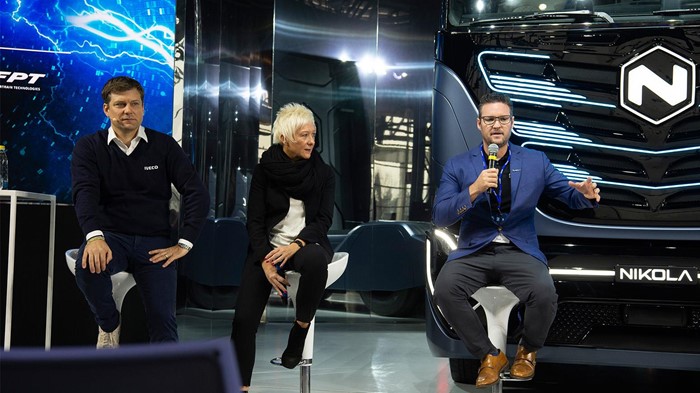 ---
"This partnership is a win-win for everyone involved. From the moment we launched the Nikola ONE in 2016, truck drivers and government officials have been asking for us to bring Nikola to Europe. The Nikola TRE is gorgeous and innovative and unlike any other truck in the world. We needed the right partner to help us enter the European market and CNH Industrial is the right commercial partner," says Nikola CEO Trevor Milton. "While other OEMs are laying off tens of thousands of employees, Nikola is creating thousands of jobs and forcing the trucking industry to react and go zero-emission. Look at what we have accomplished in three months, now imagine what we will accomplish in three years with CNH Industrial as our partner."
More On The Nikola TRE
The Nikola TRE on display at the launch event was a 4x2 cabover tractor unit designed for regional operations. The truck features a "modular battery system" that can support capacities of up to 720 kilowatt-hours, giving it a maximum range of 400 kilometres (248.5 miles) and "dynamic performance equal to or better than a diesel equivalent model," says CNH Industrial. The TRE's electric powertrain can continuously produce 480 kilowatts (644 horsepower) and 1,800 newton metres (1,327.6 pounds-foot) of torque. The battery-electric truck will also be available in rigid configurations with GVWRs (gross vehicle weight ratings) of between 18 and 26 tonnes, making them ideal "for urban distribution and municipality missions," CNH Industrial adds.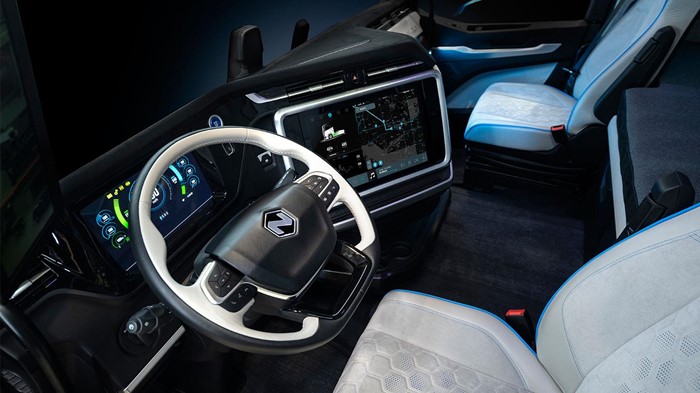 ---
Another standout feature of the TRE is Nikola's infotainment system, which includes controls for climate, mirrors, and suspension height and features Bluetooth support for connecting mobile devices, navigation, and access to feeds from the 360-degree camera system. It also takes advantage of low-energy Bluetooth that "enables a smart keyless entry system to unlock as the driver approaches the vehicle" as well as to automatically adjust settings "to driver preference," says CNH Industrial.
Nikola, IVECO, and FPT Industrial plan to start testing the vehicle in mid-2020 and then have a European launch at IAA Commercial Vehicles in Hanover, Germany, which runs from 24 to 30 September.
Add IVECO To Your Fleet
You will find a large selection of new and used IVECO trucks for sale every day on TruckLocator.