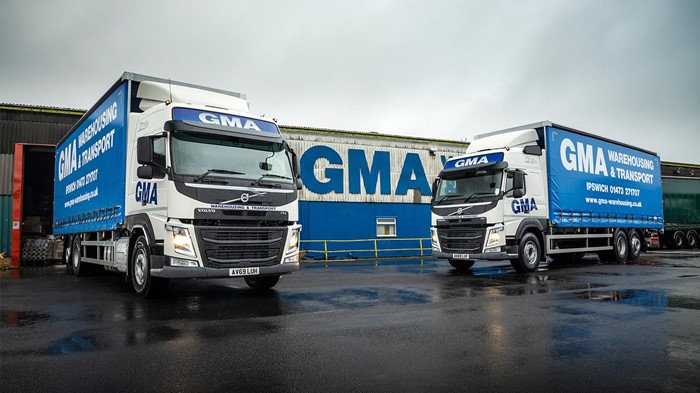 ---
GMA Warehousing & Transport, a warehousing and distribution specialist based in Ipswich, recently purchased four new Volvo FM trucks with curtain side bodies, three of which are already in service. Each of the 26-tonne 6x2 rigids features a Globetrotter cab, D11K engine that produces 330 horsepower (246 kilowatts) and 1,600 newton-metres (1,180 pounds-foot) of torque, and an I-Shift 12-speed automated gearbox with Volvo's long-haul software. GMA opted for the entire long-haul fuel package, which also includes I-See predictive cruise control, I-Cruise intelligent cruise control with I-Roll, and an automatic engine idle shutdown capability.
Fuel Efficiency Is Key For GMA
"Fuel is our single biggest variable expense, so we've worked hard with Matt Kubot at the local dealership to look at every aspect of the truck and ensure we've made it as efficient as possible for our operation," says GMA Business Development Director Jay Kamat. "Initial driver feedback during the first weeks has been very promising, and we're looking forward to seeing the positive impact of Volvo's fuel-saving innovations at the pumps."
Volvo FM Details
Volvo FM trucks are available with standard day, sleeper, and low sleeper cabs or with Globetrotter or Globetrotter LXL cabs. There are three Euro 6 engine options, including the D11K, D13K, and G13C, ranging from 330 to 500 hp (246 to 373 kW) and producing between 1,600 and 2,500 N-m (1,180 and 1,844 lbf-ft) of torque. There is also a version of the FM that runs on liquefied natural gas, which puts off fewer emissions while producing between 420 and 460 hp (313.2 and 343 kW) and between 2,100 and 2,300 N-m (1,550 and 1,696 lbf-ft) of torque.
I-Shift transmissions come standard on all Volvo FM models, but there is a wide range of available software packages tailored to distribution, construction, long-haul trucking, and heavy-duty transport applications. Other technologies on this range include adaptive cruise control, lane changing support, electronic stability program, and driver alert support.
You will find hundreds of used Volvo trucks, including a large selection of FM models, for sale at TruckLocator.