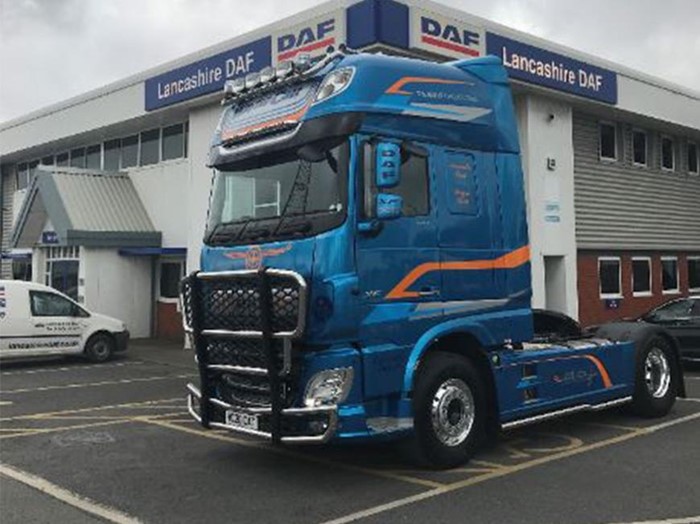 ---
Wayne Catt Transport specialises in food distribution, and as you might expect, the firm has been busy as of late. "In the first week of the coronavirus outbreak, it got pretty frantic," says Managing Director Wayne Catt. "I now have 35 trucks out on deliveries to supermarket and retail distribution centres." The Preston-based operation recently took delivery of a new DAF Trucks XF 530 4x2 tractor ordered before the national emergency began.
Super Space Cabs
The latest addition to Wayne Catt Transport's fleet, which had already included nine range-topping DAF trucks, is a 530-bhp XF tractor unit equipped with DAF's Super Space Cab and similar range-topping specifications to the other DAF units in the firm's fleet. In particular, DAF notes the 4x2 axle layout suits the hauler's low-weight, high-volume work profile. "The main priority for me and all the drivers is to make sure we meet demand, but also to support the truck industry while it carries out its essential role in feeding the nation," explains Catt. In fact, Wayne Catt Transport has recruited many other local haulers and tipper drivers to meet requirements. "I am pleased to have been able to draft them in and keep them busy," remarks Catt.
The DAF XF Series
DAF Trucks developed the XF series to maximise transport efficiency, so features like fuel economy and support for high payloads are found throughout the lineup. Increased fuel efficiency is powered by PACCAR's MX-11 and MX-13 engines, an efficient TraXon automated gearbox, high-efficiency rear axles, and an aerodynamic design. The end-result, according to DAF, is increased fuel efficiency of up to 7% on long-haul journeys. DAF XF-series trucks with the PACCAR MX-13 engine offer up to 355 kilowatts (480 horsepower) or 390 kW (530 hp) power.
To maximise payload, DAF Trucks utilises an ultra-compact emission aftertreatment system and lightweight engine and chassis configurations. Depending on the chassis configuration, DAF Truck can lower vehicle weight by up to 100 kilograms (220 pounds). A wide range of axle configurations are available on the XF series, and the selection include both rigid and tractor vehicle types. Options with the Super Space Cab volume a volume of at least 12.6 cubic metres, standing room of 2.23 metres, and two beds.
Find The Right DAF
You will find a large selection of new and used DAF trucks for sale every day on TruckLocator, including a number of XF models.