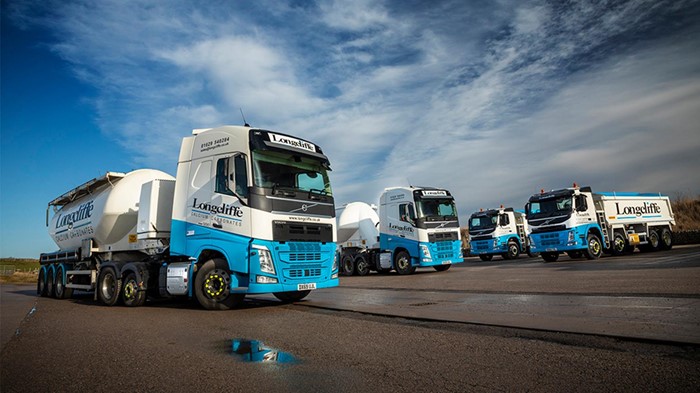 ---
Longcliffe Quarries, a specialist in calcium carbonates based in Derbyshire, recently added 10 Volvo trucks to its 41-vehicle fleet, including eight FHs and two FMs. Longcliffe estimates the trucks will be in operation for five years, working as many as six days a week, and covering around 100,000 kilometres annually. The 6x2 FH tractor units will transport tanks full of bulk powder while the 8x4 FM rigids will haul aggregates. Each of the trucks also features a four-way camera system and tyre pressure monitoring.
---


Volvo FH & FM
The Volvo FH trucks in the order all feature Globetrotter cabs, rear air suspensions, and pusher axles, as well as aluminium rims, fuel tanks, air tanks, and trailer connections. They also feature Drive+ and Living1 packages for added comfort as well as long-haul fuel packages for improved efficiency and lower emissions. The FMs are tipper trucks outfitted by Swadlincote Aluminium & Welding. The FH tractor units have Euro-6, Step D engines that produce 500 horsepower (373 kilowatts) and 2,500 newton-metres of torque, whereas the FM rigids have engines producing 420 hp (313 kW) and 2,100 N-m of torque.
---


Designed With Drivers In Mind
"We've had very positive feedback on the Volvos, we placed the order after being really impressed with how the FH demonstrator performed. We already knew about Volvo's reputation for reliability, which is a major factor in our kind of work," says James Hopkinson, transport manager for Longcliffe Quarries. "Our drivers do a lot of long-haul work and can often be away overnight, so comfort is also important. The adaptive cruise control is also very popular, it makes the use of cruise control much easier – again giving our drivers less to worry about and more peace of mind."
There are hundreds of new and used Volvo trucks for sale on Truck Locator, including a large selection of FHs and FMs.