---
Armstrong Logistics, a haulage and pallet transport specialist based in Lutterworth, has added five new Volvo FH LNG (liquified natural gas) trucks to its 95-vehicle fleet, which also includes five diesel-powered Volvo FH 500s with Globetrotter XL cabs purchased in late 2020.
The 6x2 liquified natural gas-powered FH tractor units will work at Armstrong's three logistics centres in Doncaster, Hinkley, and Lutterworth, and they'll top off their 155-kilogram (342-pound) LNG tanks at a Gasrec refuelling station at the Daventry International Rail Freight Terminal.
Each of the Volvo FH LNGs features a G13C engine that produces 460 horsepower (343 kilowatts) and up to 2,300 newton-metres (1,696 pounds-foot) of torque. Although primarily LNG-powered, the engine does require "small amounts of diesel to initiate ignition of the air-fuel mixture," Volvo explains. The engine is paired with a 12-speed I-Shift automated transmission.
Reducing Emissions
Armstrong Logistics largely decided to add the new Volvo FH LNGs is to embrace sustainability and reduce carbon emissions. In addition to traditional LNG, which can reduce emissions by around 20%, these trucks can also run on bio-LNG that can cut CO2 emissions by as much as 100%.
"As a business, we have embarked on a number of projects to reduce our carbon footprint and these new LNG-powered trucks play an important part in that," says Marcus Fischer, finance and commercial director at Armstrong Logistics. "The big focus has been on unlocking both financial and CO2 emissions savings by switching to a cleaner and lower-cost fuel.
"This is the first time we've dipped our toe into this technology," Fischer continues. "If it works as well as we hope it will, if the drivers like the new trucks, and if the figures stack up for us, then we would definitely consider adding more of these vehicles in the future."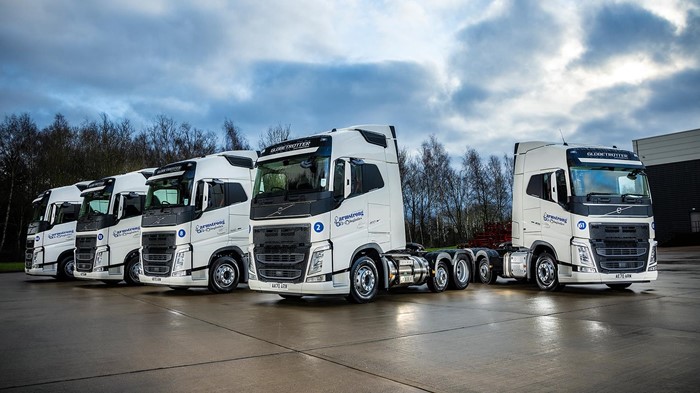 ---


Under The Hood
The Volvo FH LNG is available as a rigid truck or tractor unit in a 4x2, 6x2, or 6x4 axle configuration. In addition to the 460-HP engine, there is also the option for another unit that produces 420 HP (313 kW) and up to 2,100 N-m (1,549 lbf-ft) of torque, and both meet Euro 6, Step D emissions standards.
Depending on the exact configuration and the size of the LNG tank, the FH LNG has a maximum range of up to 1,000 kilometres (621 miles), which means that in addition to local distribution, the truck can also handle regional and long-haul transport, as long as there are LNG refuelling stations along the route.
Find The Right Volvo Truck
You will find hundreds of new and used Volvo trucks for sale on Truck Locator, including a large selection of FHs, FLs, FMs, and FMXs.
Source: Volvo