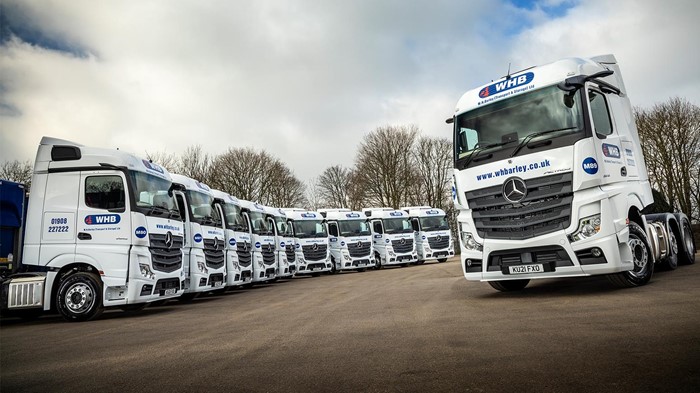 ---
WH Barley, a pallet transport and commercial storage specialist based in Milton Keynes, has added 10 new Mercedes-Benz Actros 2545 tractor units to its more than 70-vehicle fleet, which is also home to 16 other trucks from the German marque. Each of the tractors features a StreamSpace cab, a 12.8-litre 442-horsepower (330-kilowatt) engine, and Benz's Multimedia Cockpit with a 12-inch instrument panel, among other upgrades. They will be paired with either curtainside or refrigerated trailers, working seven days a week.
Standard Safety Features
WH Barley's new Actros trucks all come standard with Active Brake Assist 5 and MirrorCam systems for advanced safety. Active Brake Assist 5 can bring the vehicle to a complete stop if it detects a pedestrian while the vehicle is operating at 50 km/h (31 mph) and under. The MirrorCam system replaces traditional mirrors with cameras and A-pillar-mounted displays, not only enhancing visibility but also reducing wind resistance, which Mercedes says can result in fuel savings of up to 1.5%.
---


Reliable, Efficient & Clean
"We've been running a pair of Actros tractor units for the last three years, and they've been exceptionally reliable, economical, and popular with our drivers," says Emma Barber, director of WH Barley. "Fuel efficiency is crucial. While our established Actros deliver excellent returns, we're looking forward to seeing the additional contributions that MirrorCam and enhanced Predictive Powertrain Control can make toward reducing running costs. The camera housings give the trucks a clean, modern appearance too, and I've no doubt that equipment of this kind will become the norm before very long. We'll also be gauging how much it helps our drivers in their day-to-day work, but the initial feedback has been very encouraging."
Find The Right Mercedes-Benz Trucks
You will find hundreds of new and used Mercedes-Benz trucks for sale on Truck Locator, including Actros, Atego, Axor, and Econic models.
Source: Mercedes-Benz