---
IVECO recently announced that it has updated the S-WAY long-haul truck, introduced in July 2019, to increase fuel efficiency, reduce the cost of ownership, and offer new connectivity and technology for drivers.
"It is unusual for a manufacturer to make a substantial product update just two years after launching a brand-new model," explains IVECO Head of Medium & Heavy Line Product Management, Giuliano Giovannini. "However, we are improving a vehicle that was already among the best in its category. Today, with the new IVECO S-WAY we move to the next level, with a level of innovation that has no equivalent on the market."
New Engine Options
IVECO's new Cursor 13 and Cursor 11 engines meet Euro 6 emission standards, and the manufacturer says they are type-approved for second-generation biodiesel. The Cursor 13 range now includes extended power options with new 490 and 530 horsepower (365 to 395 kilowatts) engines. Both ranges feature increased compression ratios to improve fuel efficiency, and IVECO says the S-WAY's 13-litre engines are coupled with new, high-efficiency single-reduction rear axles, as well as longer rear axle ratios (down to 2.31:1) for further efficiency gains. Sustainable alternatives are available in the form of S-WAY compressed natural gas (CNG) and liquified natural gas (LNG) variants.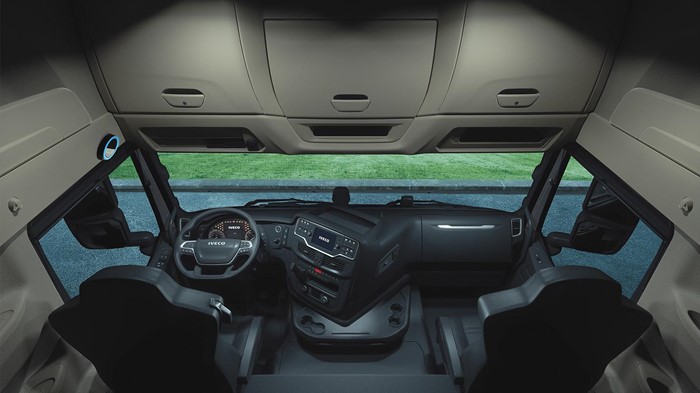 ---


IVEVO Driver Pal
IVECO's Driver Pal lets drivers use Amazon Alexa voice commands to activate in-cab controls, use the navigation system, and access all kinds of fleet management functions. The IVECO Driver Pal technology adds a MYCOMMUNITY option to connect and exchange messages with drivers on the route, or near the destination. In the case of an accident or problem, drivers can activate IVECO Top Care and alert the nearest IVECO workshop to fast-track a repair. IVECO expects the voice control technology to change the way drivers interact with their vehicle.
Find Your Next IVECO Vehicle
You will find hundreds of new and used IVECO trucks and vans for sale on Truck Locator, including a large selection of Daily, Eurocargo, and Stralis models, among others.
Source: IVECO