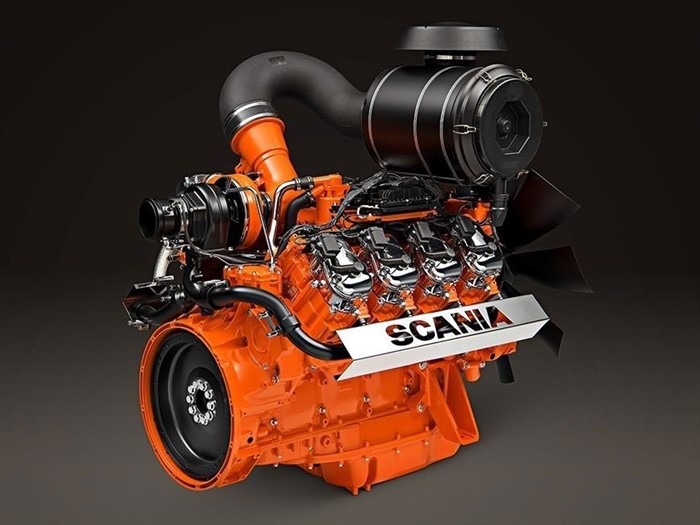 ---
Scania recently developed an engine that runs on gas generated from breaking down liquid and food wastes as well as sewage sludge, which results in an "up to 90% reduction in CO2 emissions," the company says. Powered by biogas, the 16-litre V8 engine produces 320 kilowatts during continuous operation, but can achieve 360 kW of prime power when switched between 1,500 and 1,800 rpm. Scania believes this concept will take hold with customers in industries dealing with municipal and agricultural waste, because they can essentially "create their own power."
"We hear more and more from our customers that they are interested in this type of engine and in renewable fuel sources. We are starting to see an increased interest in gas engines across the world, especially in Brazil and Russia," says Hans Petersson, global product manager, power generation, Scania engines. "While customer demand for biogas engines hasn't fully taken off yet, our customers will learn more about the benefits of this type of engine and in the meantime, we will continue to refine it, perhaps in collaboration with some key customers."
---
Australian Trial
That collaboration is already in progress with Queensland-based Southern Oil in Australia. The company will test the new Scania engine over the next 12 to 18 months using diesel fuel from its Advanced Biofuels Pilot Plant. The plant produces fuel from plastic waste and tyres, forest and farm waste, and biosolids, with the hope of demonstrating "that this renewable fuel can perform identically to petroleum-based diesel," Scania says. To achieve that, the company estimates it will need to test one million litres of renewable diesel.
Southern Oil is dedicated to sustainable business practices and already has a process where it removes containments from waste oil so it can be reused. The company also plans to open a commercial-scale renewable fuel refinery in the next five years. "Having a company like Scania endorse our fuel is crucial to creating commercial demand for our diesel and moving from pilot scale into demonstration scale," says Tim Rose, managing director of Southern Oil.
Find Your Next Vehicle
You'll find hundreds of used Scania trucks for sale at TruckLocator.co.uk, including G Series, P Series, and R Series models.