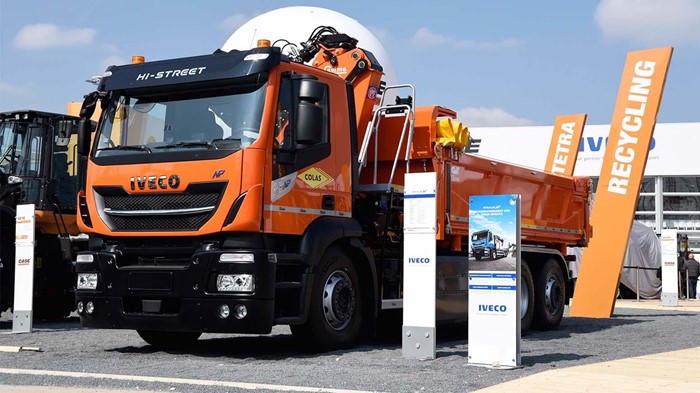 ---
IVECO shared a stand with CASE Construction equipment at bauma 2019, which ran from 8 to 14 April in Munich, Germany. IVECO had a lineup of vehicles on hand designed for vocational applications and its presence in the stand was split into recycling, road building, urban construction, and quarrying areas. IVECO had several models on display, including a Stralis NP, a Stralis X-WAY, a new Daily 4x4, a Daily Hi-Matic (done up in a CASE service van livery), and an Astra HHD9. Several of the trucks were displayed to show how they complement CASE plant equipment.
---
Stralis
IVECO had a Stralis NP 6x2 crane tipper truck that runs on natural gas in the recycling area. The truck has a gross vehicle weight (GVW) of 44 tonnes, produces noise levels as low as 71 decibels, and combines "the advantages of extremely clean and quiet operation with the payload and performance benefits of its diesel equivalent," IVECO says. In the road building area, attendees found a Stralis X-WAY three-way tipper truck. One standout feature is the option for a switchable hydraulic front-wheel drive system, making it well-suited for both on-road and off-road operations.
---
Daily
The urban construction area of IVECO's shared stand featured the new Daily 4x4, which has a GVW of seven tonnes and a maximum payload capacity of 4,300 kilograms. The company also highlighted the entire Daily lineup, including the Daily Hi-Matic, which comes standard with a 3.0-litre F1C engine that produces 180 horsepower and 430 newton metres of torque and an eight-speed automatic gearbox. The larger van range consists of twin-wheel, all-road models with cargo capacities of between 16 and 18 cubic metres as well as single-wheel, off-road models with cargo volumes of between 9 and 18 cubic metres. Other features include an antilock brake system (ABS) and IVECO's Electronic Stability Programme (ESP).
---
Astra
IVECO's new Astra HHD98x6 Euro VI truck was also on display at the show. The truck, which is configured as a dumper, has a GVW of 65 tonnes and features a 24-cubic metre body, a fully automatic transmission, and more. While the heavy-duty model was featured in the quarry area of the stand, it is also a fit for mining, oil and gas, heavy construction, and general heavy haulage applications. The Astra HHD98x6 is ready for "CE Certification according to the Machinery Directive," which means it "complies with the most stringent regulations in terms of safety in quarries and construction sites," according to IVECO.
TruckLocator.co.uk has a large selection of used IVECO trucks for sale, including Daily and Stralis models and more.