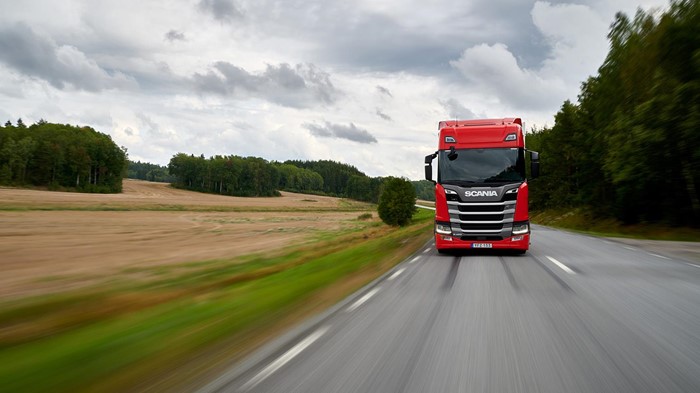 ---
Scania's R 450 has received the Green Truck 2019 award, named by German publications VerkehrsRundschau and Trucker, for being "the most fuel-efficient and environmentally friendly commercial vehicle in its class," the company announced. There were 13 total vehicles in the competition, but the R 450 came out on top with an average diesel consumption of 23.25 litres per 100 kilometres, greenhouse gas emissions of 738 grams per kilometre, and an average speed of 80.42 km/h.
"It's an honour for Scania to receive this award especially as it is our third consecutive victory," says Alexander Vlaskamp, head of Scania Trucks. "The Green Truck 2019 award reinforces what our customers around the world have already experienced: that the Scania R 450 is an exceptionally fuel-efficient truck."
Standardized Testing
Each vehicle in the competition operated on a 353-kilometre track while hauling a fifth-wheel trailer, which gave the trucks a gross combination mass (GCM) of around 32 tonnes. The engines had to be under 500 horsepower, which wasn't an issue as the competing models all had engine outputs of under 450 horsepower. Scania also had a G 410 model in the competition, which came in third. It had an average fuel consumption of 24.02 litres per 100 kilometres and greenhouse gas emissions of 762 grams per kilometre.
Winning Ways
In addition to the Green Truck 2019 win, Scania also announced that its market share in the European market rose to a record 19.1% in the first quarter of 2019. You'll find hundreds of quality used Scania trucks for sale every day on TruckLocator, including large selections of both Scania R and Scania G Series models.