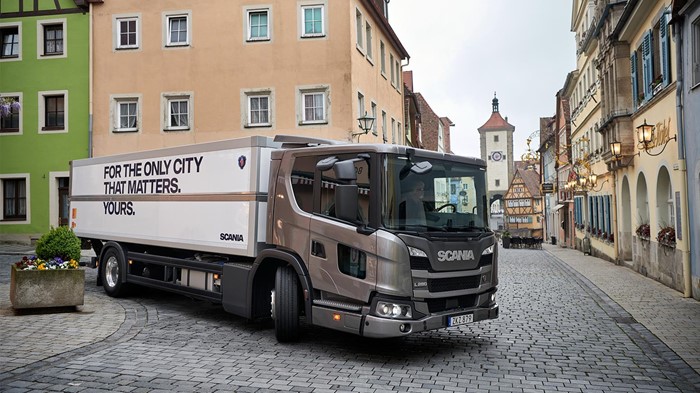 ---
Scania recently announced that its L-series of low-entry trucks are now available to order with the company's DC07 7-litre engine with output options of 220, 250, and 280 horsepower (164, 186, and 209 kilowatts) and torque of up to 1,200 newton-metres. Scania says this new option can increase the load-carrying capacity of the L-series by roughly 360 kilograms (794 pounds). It joins the existing 9-litre DC09 engine, which produces between 280 and 360 hp (209 and 268 kW) and from 1,350 to 1,700 N-m of torque. Scania introduced both the L-series and DC07 engine in 2017, but this is the first time they will be available in one package.
"Initially, we primarily focused on certain applications with slightly heavier operations by offering the L-series with our five cylinder, 9-litre inline engines," says Stefan Lindholm, senior product manager at Scania Trucks. "However, what assumed already from the outset was later confirmed. There is a demand for solutions based on the lighter and more flexible 7-litre engine as well."
A Natural Progression
Scania originally only offered the DC07 engine for its P-series trucks, but soon realized it would be an excellent pairing with its L-series trucks. The DC07 takes advantage of Scania's SCR-only exhaust gas aftertreatment system and can run on HVO (hydrotreated vegetable oil) or FAME (fatty acid methyl ester), which could result in reducing carbon-dioxide emissions by up to 90%. This, coupled with low engine noise, make the L-series and DC06 combination particularly well-suited for urban operations. It also compatible with Scania Zone, which the company explains is "is a position-based service for automatic vehicle adjustment" designed for meeting environmental regulations within cities.
"Hauliers operating in city areas are facing stricter – and fully justified – demands regarding noise, emissions, and the ability to integrate in demanding traffic and interact with pedestrians and cyclists," says Lindholm. "An L-series tipper truck with a crane, propelled by a DC07 and with cameras and a Scania City Safe Window in the pass­enger door, can be the ideal maintenance vehicle."
More Scania L-Series Details
The larger L-series of trucks is available with three cab options: L-Cab Day Low, Normal, or High. In addition to two engine options, the L-series offers a range of transmissions, including eight- and 12-speed gearboxes with or without Scania Opticruise and Retarder features. Axle configurations range from 4x2 to 6x2/4. With all of these available options, L-series trucks are handy for a wide range of applications, including distribution, waste management, construction, and more.
You will find a large and ever-changing selection of new and used Scania trucks for sale every day on TruckLocator, including G-series, P-series, R-series, and S-series models.