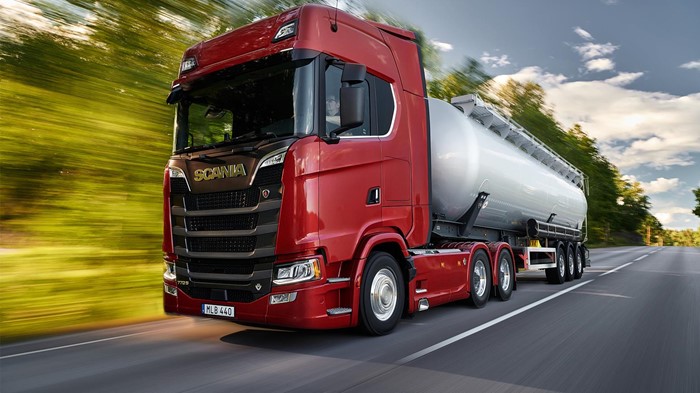 ---
Heavy-haulage customers will soon have a new range of Scania V8 engines to choose from, highlighted by a 770-horsepower (566-kilowatt) engine with a maximum torque of 3,700 newton-metres. The rest of the new V8s provide 530 hp (390 kW), 590 hp (434 kW), and 660 hp (485 kW) of rated power. Scania says the new engines should also provide significant fuel savings—up to 6%—when combined with Scania's new G33CM Opticruise gearbox.
Availability
Scania's 770-hp unit will be available for production in late December, and Scania expects the first models equipped thusly to enter service in the UK during the first quarter of 2021. The 530-, 590-, and 660-hp models should follow, with production starting in February 2021. In addition to markets where longer and heavier combinations are permitted, Scania expects to see demand for customers in countries like Italy and Spain with hilly terrain and steep, challenging roads.
"The range is ideally suited for heavy-haulage customers and those working in the most arduous conditions, such as forestry and other on-off road applications," says Vincente Connolly, UK sales director for Scania (Great Britain) Limited. "Our V8 is also extremely popular among long-haul operations who run at high gross train weights for extended periods of time."
---


Fuel Savings & Lower Carbon Footprint
The new Scania V8 engines feature a wider torque spread to allow the rear-axle gearing to be altered for lower revs. The rear-axle gearing can offer fuel savings of up to 3%, depending on application and operating conditions, and according to Scania, and another 2% in fuel savings comes from extensive fine-tuning and development to reduce internal friction and improve compression ratios, as well as from the powerful Engine Management System. Scania says the final 1% in fuel savings comes from the improved design in the G33CM Opticruise gearbox.
"A reasonable saving on markets where longer and heavier combinations are permitted can be in the vicinity of 3,000–4,000 litres annually for a truck with our new V8 – a tremendous achievement in every respect," says Alexander Vlaskamp, Scania's executive vice president and head of sales and marketing.
---
All models in the new engine range support the use of HVO (Hydrotreated Vegetable Oil), and the 590-hp variant can also run on biodiesel.
Find Your Next Scania Truck
You will find hundreds of new and used Scania trucks for sale on Truck Locator, including a large selection of G-series, P-series, R-series, and S-series models.