---
Scottish haulier JG McWilliam recently took delivery of an IVECO S-WAY with a traditional Scottish livery, including a bright tartan ribbon running around across the IVECO logo, along the doors, and up to the side spoilers. The S-WAY 6x2 tractor also features a two-tone blue colour scheme with a colour-coded chassis, wheel hubs, and external sun visor, among other components. After previously operating several IVECO Stralis trucks, this is the first S-WAY in the firm's fleet.
"They've proved to be good, reliable trucks," says JG McWilliam Transport Manager Bruce McWilliam. "We've been impressed with the fuel economy, so we decided to add an IVECO S-WAY to our fleet."
Ready For The Long Haul
JG McWilliam's AS440S57TX/FP IVECO S-WAY features an AS Sleeper Cab, which includes a leather interior, door blinds, bunk curtains, ambient lighting, a night heater, sat nav, and Automatic Climate Control. For storage, the haulier added under-cab lockers, and drivers have plenty of room for food and drink in the cab's 630-litre fridge and freezer. When taking a break, the driver can utilise the swiveling passenger seat and T-shaped double-ended reclining lower bunk to quickly create a space to relax.
"So far, we've had really good feedback from the driver. It is comfortable, quiet, and has plenty of power for the hills. The cab is a nice place to live," says McWilliam.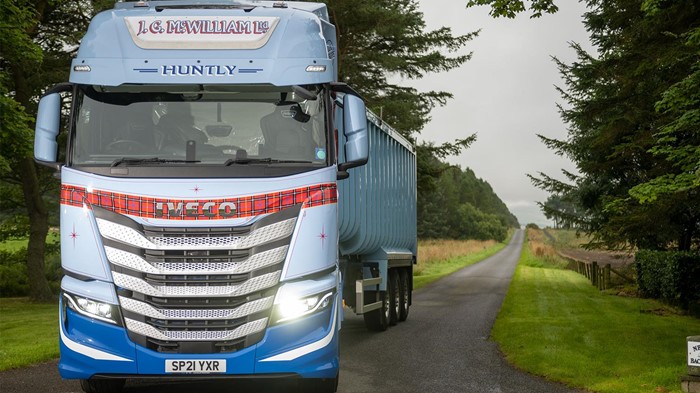 ---


Safety In Highland Winters
The undulating terrain and rapidly changing weather in the Scottish Highlands can prove difficult for even experienced drivers, so JG McWilliam specified the truck with technology to assist them. For example, the automated 12-speed Hi-Tronix transmission and IVECO's Hi-Cruise GPS predictive drive allow the truck to forward plan for the challenging terrain. The new S-WAY also features a Rocking Mode to disengage the vehicle when stuck in a low-grip area. The S-WAY powers up hills with its Cursor 13 engine, rated for 570 horsepower (425 kilowatts) and 2,500 newton-metres (1,844 pounds-foot) of torque. For better visibility, the S-WAY's full-LED lighting is said to provide 15% improved hazard perception.
Find Your Next IVECO Vehicle
You will find hundreds of new and used IVECO trucks and vans for sale on Truck Locator, including a large selection of Daily, Eurocargo, and Stralis models, among others.
Source: IVECO