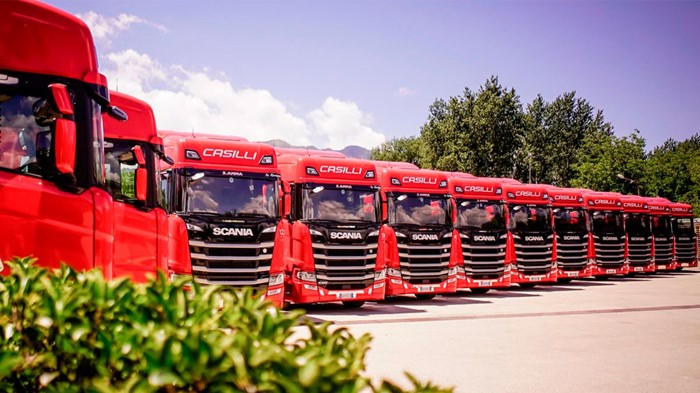 ---
Casilli Enterprise, a fourth-generation family-owned logistics and transportation company based in Nola, Italy, has added a number of Scania trucks to its fleet, including R 500s and gas-powered R 410s. "We've always welcomed innovations in our industry and believe that's it's fundamentally important to be a pioneer in reducing the environmental impact of heavy transport," says Francesco Casilli, managing director of Casilli Enterprise. "We continue to invest in sustainability even as the national and world economy is severely affected by the global crisis. We're convinced that it is only through investments that we can revive the economy."
More Scania R-Series Details
The Scania R 410 and R 500 are part of the larger R series of trucks, which are available with 9-, 13-, or 16-litre engines that produce between 280 and 730 horsepower (209 to 544 kilowatts) and from 1,400 to 3,500 newton-metres of torque. There are also options for eight-speed range-change or 12-speed range-splitter transmissions. Available with day or sleeper cabs, R-series vehicles come in axle configurations ranging from 4x2 to 10x4*6 as rigid trucks or tractor units. Standard safety features include advanced emergency braking, lane departure warning, electronic stability programme, tyre pressure monitoring, and more.
Find Your Next Scania Truck
You will find hundreds of new and used Scania trucks for sale on Truck Locator, including a large selection of G-series, P-series, and R-series models.